Animal rights and animal welfare is very important for us in Brav.
For all animal fibres Brav requires the fibres to be biproducts of animals that are bred for feeding.
We choose Chain of Custody (CoC) to ensure end customer of traceability and third party control.
Using standardized regulations and certified third party auditors easens our work to keep track at the farms and of traceability and reduces risk of non compliant components and ingredients in our products.
Certifications also enables communications through known symbols.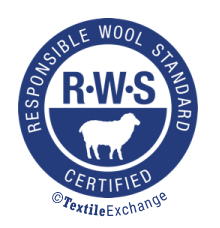 We have chosen Responsible Wool Standard (RWS) for all wool in Brav. The Responsible Wool Standard is a voluntary standard that addresses the welfare of sheep and the land they graze on. The goals of the Responsible Wool Standard are to provide the industry with a tool to recognize the best practices of farmers; ensuring that wool comes from farms that have a progressive approach to managing their land, practice holistic respect for animal welfare of the sheep and respect the Five Freedoms of animal welfare.
Responsible Wool Standard (RWS) - Textile Exchange
We have chosen Textile Exchange Responsible Down Standard (RDS) for all down in Brav. The Responsible Down Standard (RDS) aims to ensure that down and feathers come from animals that have not been subjected to any unnecessary harm, and that the goose and duck breeders respect and follow the Five Freedoms of animal welfare. It is our hope that the standard can be used to reward and influence the down and feather industry to incentivize practices that respect the humane treatment of ducks and geese. The standard also provides companies and consumers with a tool to know what is in their products, and to make accurate claims.
Responsible Down Standard (RDS) - Textile Exchange